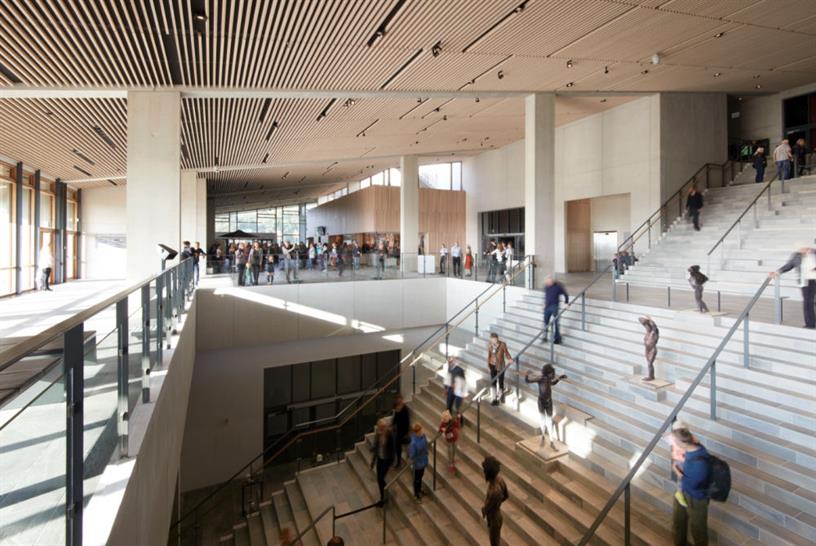 Click image to expand
Image: Martin Schubert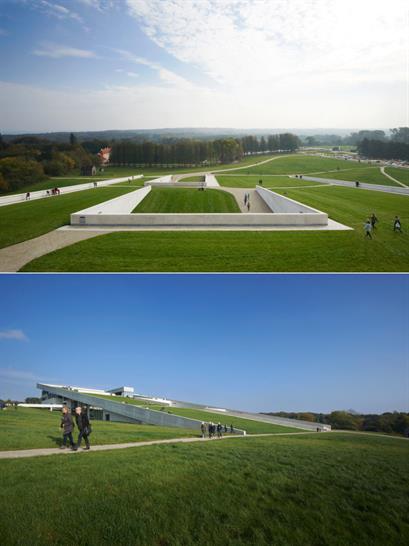 Click image to expand
Images: Martin Schubert
of
Opened in October 2014, the Henning Larsen Architects-designed Moesgaard Museum sits proudly on a hillock in the Danish city of Aarhus. The 16,000 sq m facility blends seamlessly with the Skåde hillside having been set into the rising grassy mound, creating a grand roofscape covered in moss, flowers and grass.
Henning Larsen Architects explains: "The rectangular shaped roof plane seems to grow out of the landscape and during summer it will form an area for picnics, barbeques, lectures and traditional Midsummer Day's bonfires. Come winter snowfall, the sloping roof will become transformed into the city's best toboggan run."
The Moesgaard Museum is dedicated to archaeology and ethnography, and boasts some key historic finds such as the 2,300-year-old Grauballe Man and 1,800-year-old weapon sacrifices. The new complex has been arranged as a blend of high-tech exhibitions and traditional workshops so that visitors can watch the archaeologists and ethnographers while they work.
Internally the finishes are painted or left as rough concrete, and light-drenched courtyards and terraces run throughout the form. The intention is to provide a multitude of spaces for alternative approaches to the exhibitions, ensuring that the Moesgaard Museum appeals to a range of ages.
Jan Skamby Madsen, Director of the Museum, explains: "Previously, you needed to be an amateur archaeologist to find our collection interesting, because it was simply exhibits displayed in endless rows. We wanted to reinvent ourselves.
"It was essential to us that we got a spacious building with the opportunity to explore new ways of communicating the past, but, at the same time, we wanted the buildings to be fitted well into the landscape. What troubled us the most was, how we could build big in these beautiful hills without destroying the natural surroundings. We were very uneasy about this, because we love this place so much."
The result is a smooth integration of the building form into the landscape with an accessible roof for visitors to the museum, even outside of opening hours. The roofscape ends in concrete and enjoys large expanses of glass to draw light into the building foyer.
Henning Larsen Architects has released an online magazine with further details of the Moesgaard Museum, including interviews with key players in the design. Click here to view the publication.
Credits
Client: Moesgaard Museum
Client Adviser: D-K2
Architect: Henning Larsen Architects
Landscape Architect: Kristine Jensens Tegnestue
Engineers: Cowi
Signage, wayfinding and design: Henning Larsen Architects
Contractor: MT Højgaard and Lindpro