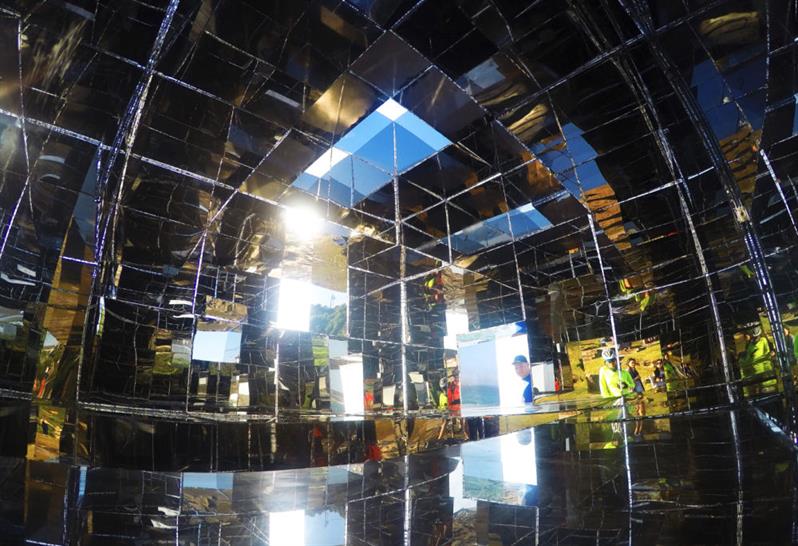 Click image to expand
Image: NEON
of
Sculpture by the Sea Bondi is an annual event which sees hundreds of thousands of local residents and art lovers flock to a scenic stretch of coastline between Bondi and Tamarama in Australia to enjoy over 100 unique sculptural constructions.
This year, design studio NEON created a glittering temporary form as part of the exhibition, later winning the Andrea Stretton Memorial Invitation to repeat their pavilion's performance as part of Sculpture by the Sea Cottesloe 2015 in Western Australia.
The successful project is entitled House of Mirrors. A modestly sized scheme, it is formed of a steel gabion cage system - sponsored by Sydney-based Permathene - and sheets of mirror finish steel. The inspiration for the design came from the traditional Australian beach hut, a structure which typically stands out from its environment with a striking, bold design.
In contrast to this, NEON's House of Mirrors welcomes the natural landscape, framing the scenic views with its steel cage form and reflecting elements of the environment with the mirrored cladding. It is hoped that passers-by may discover new impressions of the area through the angles captured by these reflective panels.
NEON explains: "House of Mirrors creates a magical experience for visitors. It is a house that isn't quite there; it allows you to sit within it, soaking in the environment in plain sight of everybody whilst simultaneously remaining completely hidden. It is a place for sitting, relaxing and contemplating the unique environment that is Australia."