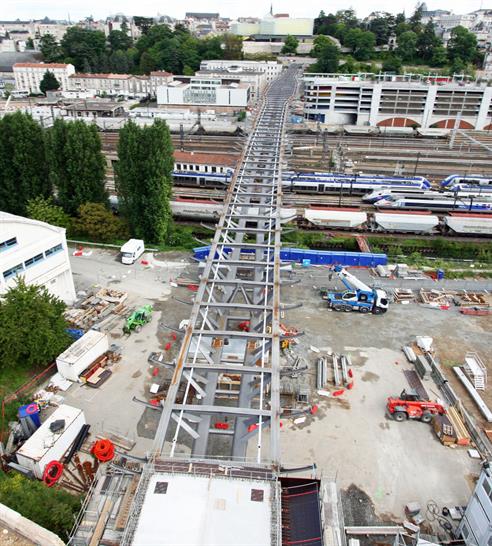 Click image to expand
Image courtesy of Eric Denis
of
With the opening of the bus station on its bridge, the Léon Blum viaduct - which has been in use since February - is officially complete.
The new crossing spans a large high-speed rail station and the Boivre river valley running through the centre of Poitiers. It replaces a concrete footbridge, now demolished, and expands the functionality of the crossing. It does so by providing access to the city centre via a BRT bus network (Bus Rapid Transit), and a BRT station on its deck as part of the bridge design. The new bridge therefore plays a strategic role in the large-scale development of the city.
The design consists of a 310 metre-long semi-Vierendeel composite truss. It is divided into five spans, with a main span of 81 metres. Of critical importance for the design was the integration of the project into the city surroundings and the railway platforms. The height of the structure over the station platforms increased the aesthetic requirements for the under-surface. The truss system superstructure is in line with the bridge piers that are articulated at their base.
Construction over active high-speed rail required careful coordination with the rail operators and limited construction time during several nightly closures. Steel segments and pre-casting of the concrete deck and underside panels reduced site activities and lifts over the railway. In addition, the design build procurement allowed the design and construction to be fully integrated and also streamlined the design, fabrication, and construction schedule.
The extensive studies carried out during detail design stage allowed the firms to design a viaduct which matched the initial conceptual vision. During the design process, the sections of the structural components were optimised and refined to emphasise the slenderness of the architectural composition.
RFR acted as Architect and Engineer for this winning design-build competition entry. The competition was launched by the Client in December 2009.
Key figures
Average width: 14m
Length: 330m
Maximum height between the railway tracks and the tracks of the viaduct: 20m
Gradient: 2.80%
4 piers
2 abutments
3 spans of 81 metres
2,000 tons of steel
2,700 tons of concrete
2km of steel tubes and various sections
67 concrete slabs
134 kerb shells
2 bus lanes. 3.50 m wide
1 pedestrian sidewalk. 3m wide
1 cycling path. 3m wide
Cost: €25m
Project Team
Client : Grand Poitiers, Communauté d'Agglomération de Poitiers
Design Team Architect - Engineer: Jean-François Blassel / RFR
Design-Build joint venture : Vinci Construction France - GTM Bretagne - EBL centre, Freyssinet (Déconstruction), RFR
Landscape : Michel Desvigne Paysagistes
Lighting designer : 8'18''