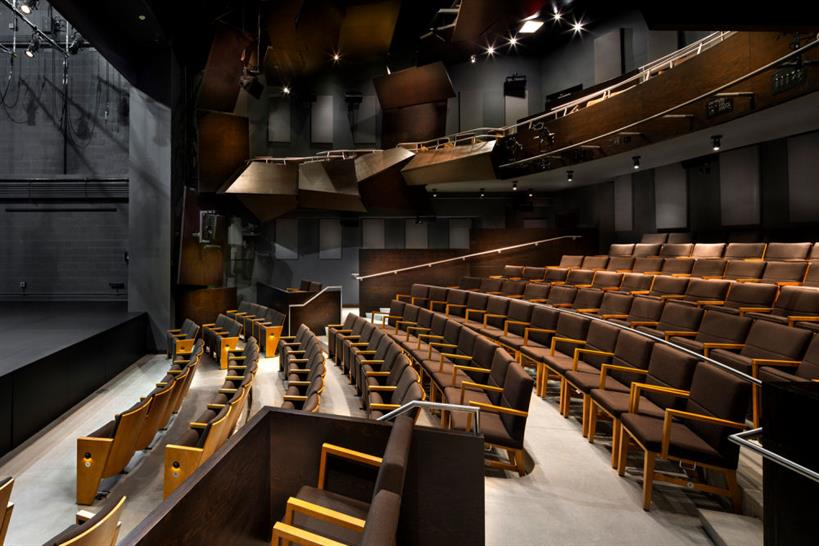 Click image to expand
The Alice Griffin Jewel Box Theatre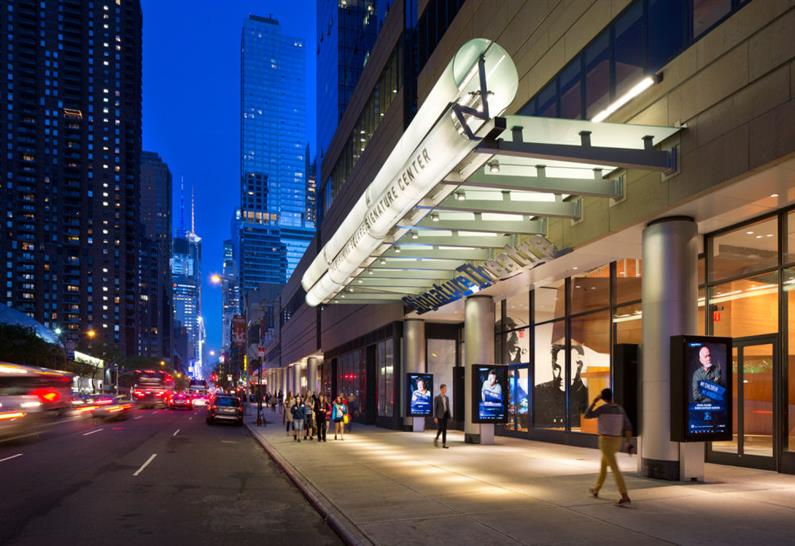 Click image to expand
Digital signage displays designed by Auerbach Pollock Friedlander are located throughout the lobbies and building exterior entry
of
In 2003 Signature Theatre was chosen to be one of the two resident companies at the proposed World Trade Center Performing Arts Center. Together with the Lower Manhattan Development Corporation and the Joyce Theatre, Signature Theatre selected Gehry Partners as the design architect for the project and Auerbach Pollock Friedlander as Signature's theatre consultant.
Signature Theatre had an ambitious goal to expand their programming and their vision was of three distinct theatres. Auerbach Pollock Friedlander engaged in a process of interviewing key staff, artists and some the world's foremost playwrights, who have benefitted from Signature's core mission, before developing the space program and initial design concepts. In 2005, the project had to be halted because of the prohibitive costs of building within the new World Trade Center site.
However, there was now a real commitment to Founding Artistic Director Jim Houghton's vision of expanded performance programming, so a new search began for a site that would accommodate the new facility. Auerbach Pollock Friedlander's familiarity with his vision and the team's commitment to it led to them being asked to continue working with Signature Theatre and to help them liaise with the NYC Department of Cultural Affairs to test various site options.
A site under development by Related Companies had a designated, but as yet to be designed, arts-amenity space within their planned building. A plan coalesced, supported by the Department of City Planning and the Department of Cultural Affairs, to integrate the Signature Theatre into that building.
The building was already under construction and the design team had to work quickly to situate each of Signature's venues within the existing footprint. Auerbach Pollock Friedlander had to coordinate the base-building in-slab conduits for complex stage technologies even before the designs were completed. In addition to the three theatres, the site also had to accommodate two rehearsal spaces, dressing rooms, craft shops, administrative offices and a café/bookstore; all within the shell of a high-rise tower with already existing building elevators, stair cores, structural columns and shear walls.
Auerbach Pollock Friedlander worked closely with Signature Theatre, Gehry Partners and Related Companies to develop the plan that would form the core and shell agreement between Signature and Related. Eventually the collaboration included H3 Hardy Collaboration (Architect of Record), Related Companies' base building architects - Arquitectonica and Ismael Leyva Architects, various engineers and Structuretone, the interior fit-out contractor.
Auerbach Pollock Friedlander was charged with working within the context of a pre-determined building footprint and to develop the largest performing arts complex built in Manhattan since Lincoln Center for the Performing Arts. This was a successful and rewarding nine-year commitment from our firm and The Pershing Square Signature Center successfully opened in early 2012.
Key Project Features:
Pre-architectural space program development

Coordination of user and owner functional requirements

Successful design within a pre-determined/existing building structural envelope

Coordination with the architects, acoustics consultant, developer and construction team on a complex design

Productive and positive collaboration with a visionary architect

Completion of a major successful performing arts center in Manhattan
Project Size: 68,000 sq ft
Project Features: Three theatre venues within high rise condo tower
Owner: Signature Theatre CompanyDesign
Architect: Gehry Partners
Architect of Record: H3 Hardy Collaboration Architecture