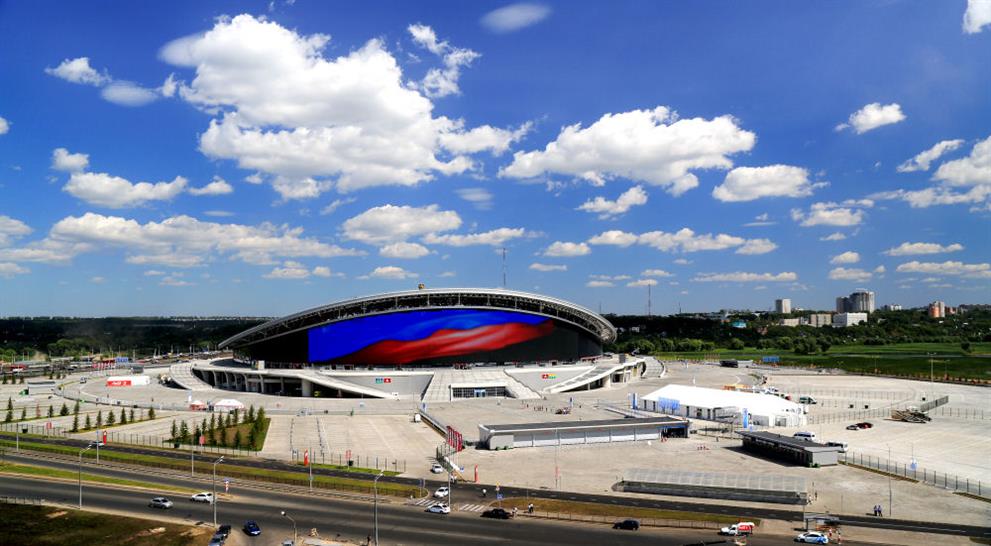 Click image to expand
Image: Stanislavgubaydullin
of
This summer, sports design specialists Populous completed a major new stadium for Premier League football club Rubin Kazan in the capital of the Republic of Tartarstan, Kazan. The city has been recognised as the 'Sports Capital of Russia' and recently hosted the 2013 Summer Universiade, with the dramatic opening and closing ceremonies both held at the newly-opened Kazan Stadium. The arena will also be a key venue for the 2015 World Aquatics Championships and the 2018 FIFA World Cup.
The stadium design is the result of a number of factors including the proximity of the scheme to two rivers, sightlines to the Kazan Kremlin (a World Heritage Site) and the hopes of the city authorities that the project would act as a catalyst for local regeneration. The result is a sleek silhouette which takes its form from the notion of a water-borne flowering plant floating downstream. The roof is also designed to withstand severe snowfalls.
Commenting on the wider inspiration of the design team, Damon Lavelle, Principal at Populous, said: "The Populous team has been inspired by the energy and drive of the people of Kazan in demanding world-class facilities. The Kazan Arena has provided a fitting setting for the 27th Summer Universiade and, as the country's first multi-use stadium and multi-functional community facility, a lasting legacy for this ever-growing city."
Also gracing the façade of the Kazan Stadium is the largest media façade in Europe. Spreading across 4,000 sq m, half of which is high definition quality, the media façade was used to broadcast the theatrical opening and closing ceremonies of the 2013 Summer Universiade. It will also be used to relay football matches from within the stadium and also provides opportunities for advertising materials to be projected onto the external façade.