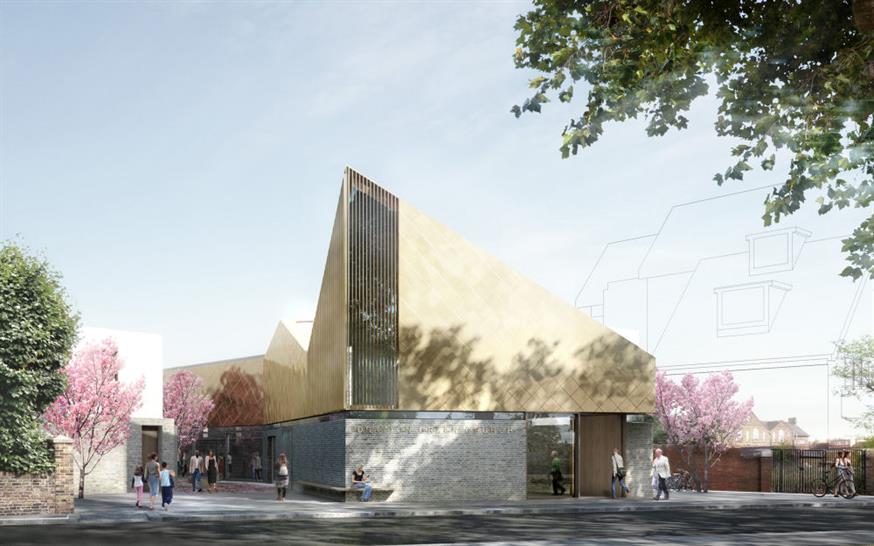 Click image to expand
Digital Imagery by INK
of
Piercy&Company have revealed their proposals for Drayton Green Church in Ealing, London; a new building for the International Presbyterian Church (IPC). Piercy&Company have been working on the designs since July 2011, with a brief to create a contemporary building located at the centre of the IPC's own community to serve the Church's growing work and congregation.
Piercy&Company's scheme retains an existing Grade II listed chapel - originally built as an annex to the previously adjacent St Helena's Home for 'fallen women' - and encloses it within a larger scheme which includes an entrance hall, administrative and meeting spaces and a worship space for up to 200 people. The original chapel is enfolded and showcased within the new building, its exterior walls transformed into a rustic interior object, unexpectedly encountered when moving between the entrance hall and the new worship space.
A thin offset of roof level glazing connects the chapel with the new building, allowing natural light to penetrate the original leaded glass and serving to differentiate the old from the new. A new central courtyard re-engages the street and creates breathing space for the listed chapel, located in the centre of the site.
The design is characterised by a dramatic folded roof, the form of which reduces the massing of the building and creates a finer grain more appropriate to the building's leafy suburban context. The roof rises towards the front of the building to peak in an abstracted spire which signals the church's entrance and the building's civic and ecclesiastical function. In developing the roof design, the practice created more than 100 folded paper models to explore and refine the final form and proportions of the church.
The materials have been carefully selected for the Victorian residential context. A ribbon of textured brick wall grounds the building and weaves through the site toward the existing Victorian walled garden at the rear. A thin clerestory of glazing separates the masonry from the roofscape, giving an impression of the roof floating over its supporting walls. Weathered brass shingle-tiles clad the upper roofscape, adding warmth to the exterior and matching the tonal palette of its surroundings.
Stuart Piercy, Director of Piercy&Company says: "For us, the challenge of designing a contemporary church was in balancing the need for an extremely flexible layout with the desire to create a spiritual spatial experience. We didn't want the requirement for flexibility to result in a place that felt like a community hall instead of a place of worship. The large interior volumes of the church gave us a fascinating opportunity to explore dynamic spaces and expressive, symbolic architectural form."