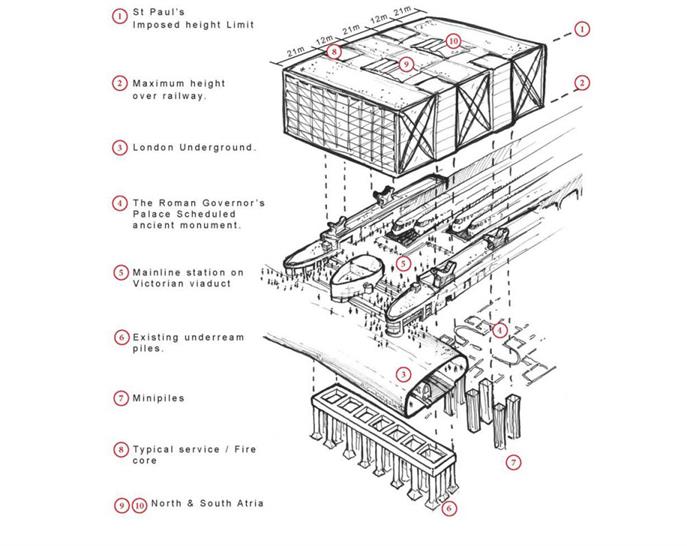 Click image to expand
image © Michael Schorer
of
Cannon Place is a dramatic new state of the art office building for developer Hines. The air-rights development sits above one of London's busiest commuter stations which in turn sits above a London Underground station and tunnels and extensive protected archaeological remains. The clear height required for the railway station and protected views of nearby St. Paul's Cathedral, resulted in a vertical development zone of only 32 m within which to plan the eight levels of office space necessary to make the scheme commercially viable.
The 50,000 sq ft floorplates are each divided into five east-west 'strips' of accommodation: three of 21 m deep space, separated by two of 12 m. At each end of each 12 m strip sits a 12 sq m square fire escape and service core. In the centre of each 12 m zone there is an atrium which allows daylight to penetrate into the heart of the plan; each atrium also contains six scenic passenger lifts.
Directly allied to this simple plan form, an innovative structural design solution has been development which utilises façade depth transfer structures to perfectly balance the northern and southern 21 m bays and obviates the need for columns on top of the London Underground tunnels or through the running tacks of the mainline station.
The striking yet functional nature of the structure has been expressed architecturally by placing the fully glazed curtain wall inside the structural frame. All of the vertices of the glazed office 'box' have been rounded to further accentuate the audacious nature of the exo-skeletal structural frame.
Only the cores and free-standing plant tower to the east are expressed as louvered elements to reflect their service functions. The new glazed double-height entrance for the underground station will occupy the prominent north-west corner of the site with step-free access from Dowgate Hill.
On Cannon Street, a brand new public space has been created beneath the entire northern cantilever. The dramatic glazed office foyer containing the escalators to the main building is placed in the centre of this new piazza, which also provides access to the reconfigured mainline station.