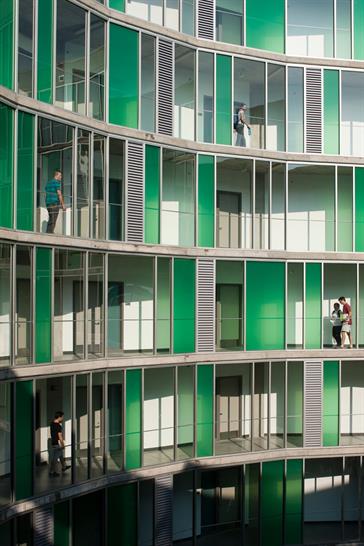 Click image to expand
© RTKL.com / David Whitcomb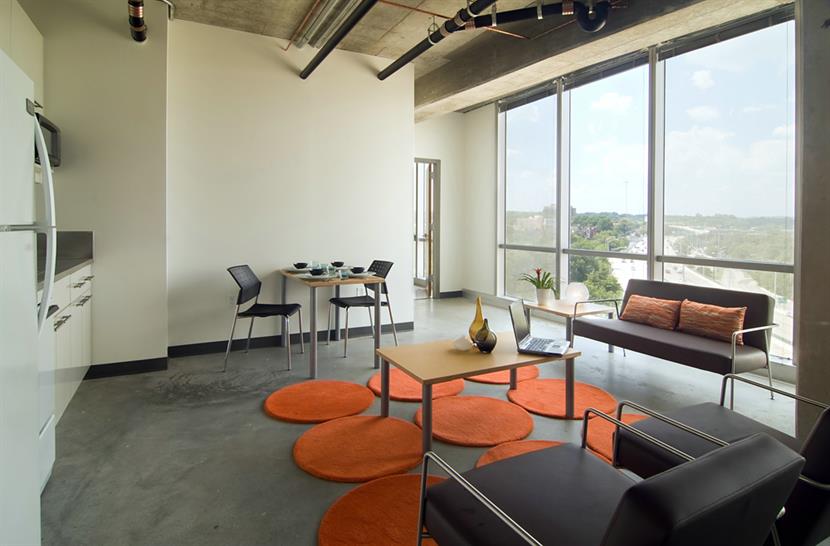 Click image to expand
© Paul Burk
of
Faced with a growing demand for functional student housing, MICA (Maryland Institute College of Art) commissioned a new student residence to establish a visual gateway to the school's northern campus edge and create a prominent face for the school in the community. The 99,000-sq-ft, 11-storey building is designed as a distinctive circular tower of 88 residential units and student art studios surrounding a central courtyard.
The unique design addresses the challenges posed by the site's tight size constraints and location bordering one of Baltimore's busiest streets. The location of the tower is strategically positioned to shield the campus from traffic and noise while providing views into the semi-public spaces of the building. Outside, the building's progressive use of glass and colour, combined with dramatic interior and exterior views, creates an animated, exuberant, and energetic space that connects student life with the larger community.
Creative use of transparent glass and lighting design engages the public and highlights the building's active internal environment. The patterned glass façade of the residence tower is intentionally varied to represent the individuality of the artists in residence and instill a sense of motion around the courtyard with varying colour and reflectivity. On the interior, three and four-bedroom studios are designed with a loft-like aesthetic and easy to clean materials and surfaces tailored to art students.
The open core of the building allows students to connect visually with the internal courtyard, the adjacent studios, and the surrounding city. The building's dynamic public spaces offer numerous opportunities to work, study and socialise. The Gateway includes an abundance of amenities open to the local community, including a café, a black box theater and a gallery space.