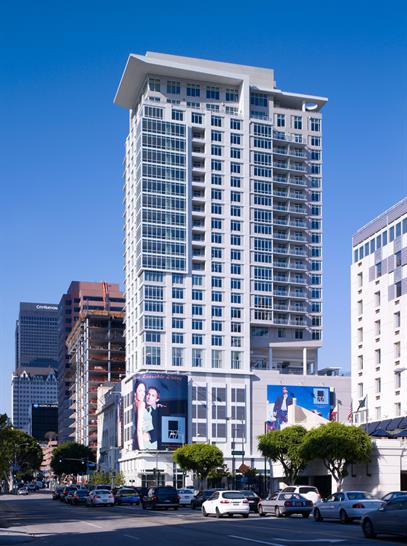 Click image to expand
© John Linden
of
717 Olympic is a modern, luxury residential high-rise tower anchoring the award-winning L.A. Live sports and entertainment district in downtown Los Angeles. The building's modern aesthetic and luxury amenities fill a niche for upscale housing in the city center. At 26-storeys, the building has 151 one and two-bedroom apartments ranging from 660 sq ft to 1,644 sq ft, and seven levels of parking. The ground floor has retail and commercial space alongside a residential lobby, totalling 7,499 sq ft.
Working on a compact site and creating visual harmony with the adjacent 1922 Romanesque-style Variety Arts Club was the primary challenge of this project. The design responds with massing, framing and an organisational structure that complements the surrounding urban environment. To maximise space and minimise structural costs, the project designers used an expressed moment frame on each side of the building. Aesthetically, the expressed frame also serves as the structure's main articulation and organisation device.
The tower achieves a sense of layering and texture by articulating deep setbacks and shadow lines. There are nine units per floor with varying floor plans including two-storey penthouses. The units boast private balconies elevated above the podium to provide views of the entertainment district and surrounding downtown area. Apartments feature high ceilings, open floor plans and top-of-the-line finishes including bamboo floors, stainless steel appliances, and stone finishes. Common areas on the 8th and 26th floors provide space for high-end tenant amenities including a pool deck, exercise facilities, a film screening room, temperature-controlled wine storage, fire pits, a gourmet kitchen, an outdoor grilling area and a theater among other luxuries.