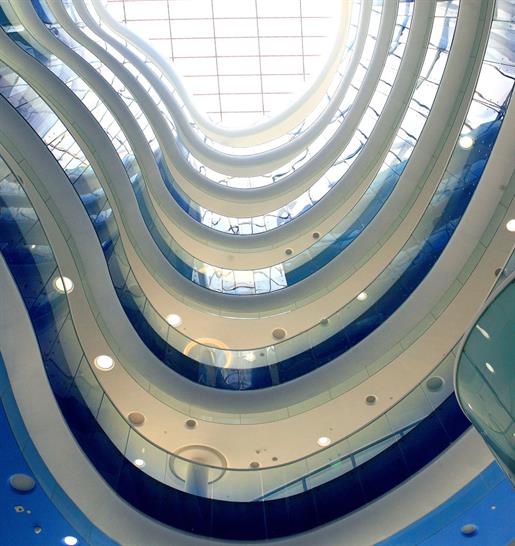 Click image to expand
image © Jonson Xu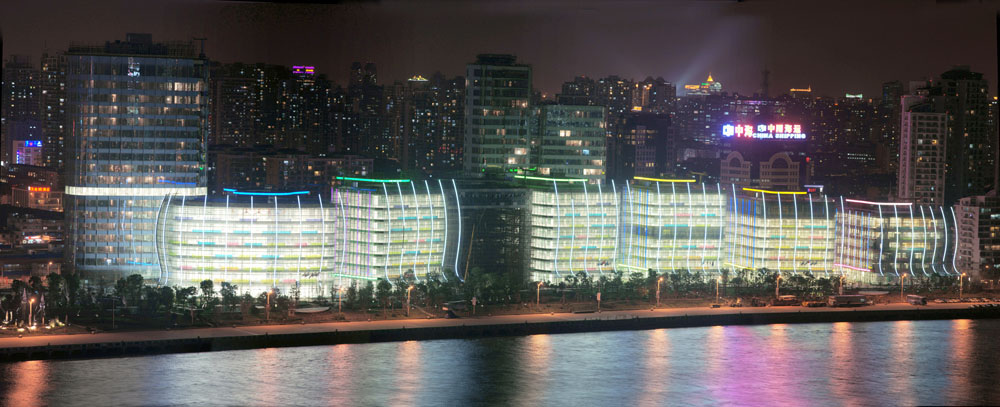 Click image to expand
image © Jonson Xu
of
SPARCH was appointed the master planner for Shanghai's new International Cruise Terminal in early 2004. This 800-metre long riverfront site is conveniently located north of the historical 'Bund' centre of Shanghai, and capable of accommodating up to three 80,000-tonne cruise ships at any one time and handle an expected passenger flow of over 1.5 million people annually.
SPARCH responded to the brief's requirement that 50% of the 260,000 sq m construction area be placed underground by creating (delete part of sentence) a honeycomb of sunken landscaped courtyards. The buildings appear to disappear into these sculpted holes, providing abundant opportunities to explore connections between the ground and 'lower ground' levels. The concept also explores the idea of ripples in the landscape being amplified into standing crystal waves that wrap over the buildings. This augmented over time into a second skin that protects the commercial office spaces from their due south orientation, and is populated with semi outdoor balcony spaces overlooking the Huangpu River.
The centre piece of this mixed-use development has been dubbed the 'Shanghai Chandelier'. With its 40m-high glass-clad portal, the Chandelier overlooks the public park and waterfront where city dwellers and tourists can congregate in an open space for festivals and events. Looking up from the ground, a view of several floating cafes, restaurants and bars suspended on cables beneath a seven-storey steel truss will greet passersby. This is the very first suspended cable construction of its type in the world.
This development also represents a first in Shanghai for sustainability, incorporating River Water Cooling Technology - utilising water from the Huang Pu River as a refrigerant to cool and thereby greatly reduce the buildings' energy consumption during the summer months. There is a symbiosis between Shanghai's fun loving desire for diversity, and SPARCH's approach to design, that has made this architecture a reality.