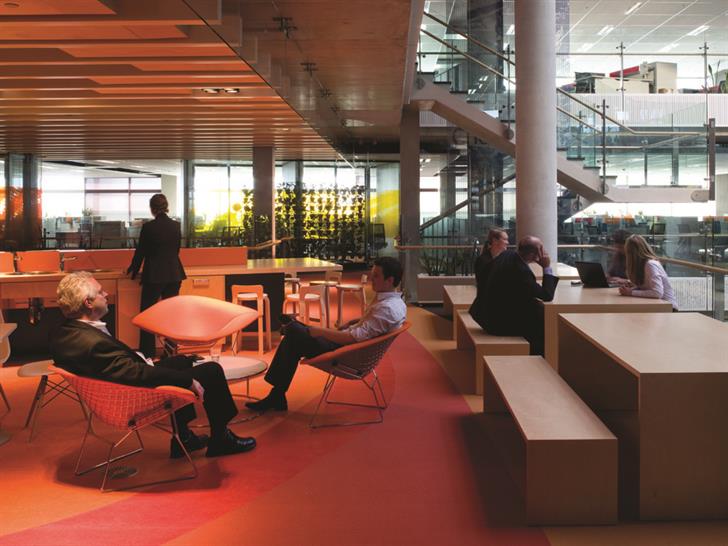 Click image to expand
image © Earl Carter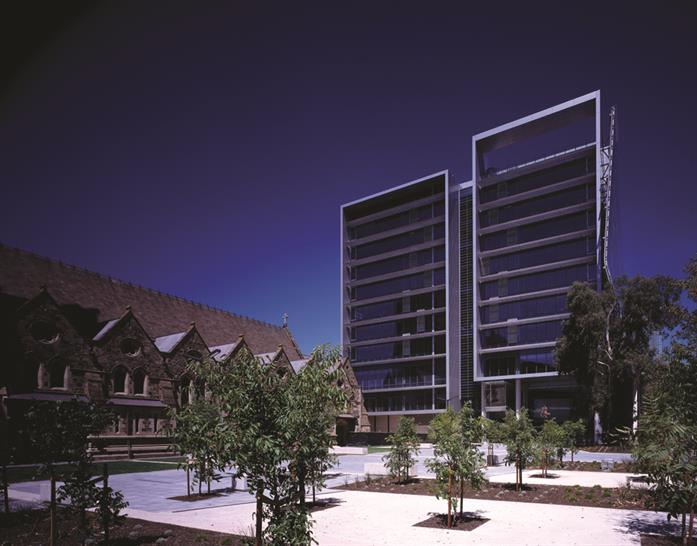 Click image to expand
image © Trevor Mein
of
SA Water House sits adjacent to St Francis Xavier Cathedral within in a large public plaza. The learning centre within the light-filled foyer encourages visitors to explore the space and endeavours to educate the public and engender a sense of fun. A cafe, casual meeting areas and signature sculptural function space add to the vibrancy of the ground floor. Water testing laboratories within public view maximises connection to the wider community.
The brief was shaped through extensive consultation with a cross section of staff. It highlighted SA Water's aspirations of a sustainable workplace to support a healthy, integrated environment that would demonstrate leadership in sustainability and reposition SA Water as an employer of choice. Consolidating staff and laboratories from multiple sites, improving staff collaboration and business efficiency were also key drivers for the design of the building.
The design takes the River Murray as its inspiration and the building offers unimpeded views over the CBD. Floorplates of 2,200 sq m are linked by a generous atrium and central stair, bringing light and activity into the centre of each floor. Floors are linked both visually and physically, fostering interaction and collaboration within the workplace.
An underfloor air conditioning system delivers conditioned, fresh air at floor level, enabling stale air to be efficiently removed from the work areas. In response to building orientation the western facade has a fritted glass double facade providing passive solar control, while allowing external views and abundant daylight for occupants.
Combined with high levels of natural light, energy efficiency, water efficiency and the use of low off-gassing materials, the building sets new standards in office accommodation. Completed in October 2008, SA Water House was the first building in South Australia to achieve a 6 Star Green Star design rating from the Green Building Council of Australia.