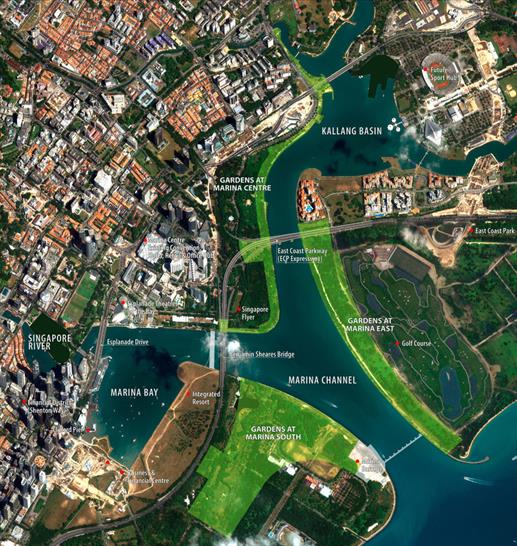 Click image to expand
Grant Associates/Gustafson Porter
of
Grant Associates and Gustafson Porter have won an international competition, organised by Singapore's National Parks Board, to design Gardens by the Bay, part of the next phase of the city's masterplan. The gardens will occupy 101 hectares of prime land by the water and will become part of Marina Bay.
Bay South, designed by landscape architecture firm Grant Associates, will be the largest garden at 54 hectares and will be located next to the Marina Bay integrated resort. The Conservatory Complex will comprise a 'Cool Moist' biome and a 'Cool Dry' biome, displaying plants and flowers from the Tropical Montane (Cloud Forest) and Mediterranean environments respectively. Designed as tree-like structures between 30 metres and 55 metres in height, the 'Supertrees' are uniquely designed vertical gardens, creating a vertical display of tropical flowering climbers, epiphytes and ferns. At night, these canopies will come alive with lighting and projected media.
Sitting in the western bank of Marina Barrage, Bay East will be 32 hectares in size. Gustafson Porter's design includes water gardens with terraces that cascade down to the Bay's edge, a Boat House Piazza and an education centre that will tell the story of water in nature, and teach in a creative and interactive manner the symbiotic relationship between plants, animals and water in an aquatic ecosystem.
The first phase of the gardens is scheduled to open in 2011.
Laura Paton
Editorial