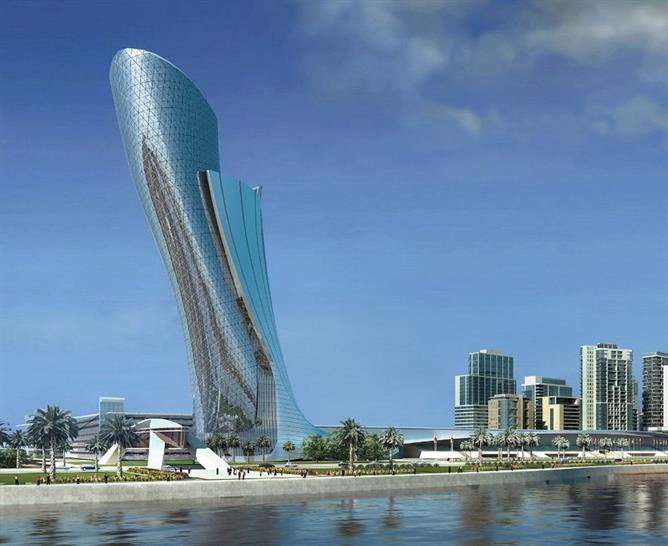 Click image to expand
(c) RMJM Capital Gate as it will look upon completion
of
Capital Gate, Abu Dhabi's iconic leaning tower, has topped out its central core and reached its final height of 525 feet.
Capital Gate leans an incredible 18 degrees (14 degrees more than the famous leaning tower of Pisa). It is being developed by Abu Dhabi National Exhibitions Company (ADNEC) and has been designed by global architects RMJM, with a North American division headquartered in New York. The 35 storey tower forms the focal point of the Capital Centre development, an AED8 billion (U.S. $2 billion) business and residential micro city being constructed around the thriving Abu Dhabi National Exhibition Centre.
"Capital Gate is an excellent example of what can be achieved when vision, creativity, design and engineering combine effectively with a partnership approach among team members. I am pleased at the steady progress being made on Capital Gate and would like to commend everyone involved in bringing this amazing and complex project to life. We look forward to working with RMJM, and Al Habtoor, the contractors of Capital Gate, to ensure the development is delivered to the people of Abu Dhabi over the course of the next year," said Simon Horgan, Group CEO of ADNEC.
RMJM's Associate Director, Tony Archibold, said: "Topping out the core is a major milestone to achieve. We still have challenges to face, but with the meticulous planning and recording that we have implemented throughout the construction, the pathway to successful completion is very much in sight."
Elaborating on the complexity involved in the completion of the core, Archibold explained that the core slants in opposite direction to the lean of the building, straightening as it grows. "This has never been attempted anywhere in the world before," he said.
Capital Gate will house Abu Dhabi's first Hyatt hotel - Hyatt at Capital Centre, a presidential-style, luxury five-star hotel that will provide 189 hotel rooms for visitors and exhibitors at the Abu Dhabi National Exhibition Centre, as well as international business and leisure travelers. It will also provide high-spec office space. Level 18 of Capital Gate will feature a cantilevered tea lounge, which projects out over the eastern portion of the facade, and on top of which is an open sun terrace and pool with a sweeping view of Abu Dhabi and the Gulf.
Due to its unique shape, Capital Gate is being constructed on top of a 7-foot deep concrete base with a dense mesh of reinforced steel. The tower comprises a complex steel diagrid, which sits above an extensive distribution of 490 piles that have been drilled 100 feet underground to accommodate gravitational, wind and seismic pressures caused by the lean of the building. The angles and dimensions of the building have been measured and designed meticulously to ensure that each individually shaped diagrid accurately defines the shape of this magnificent structure.