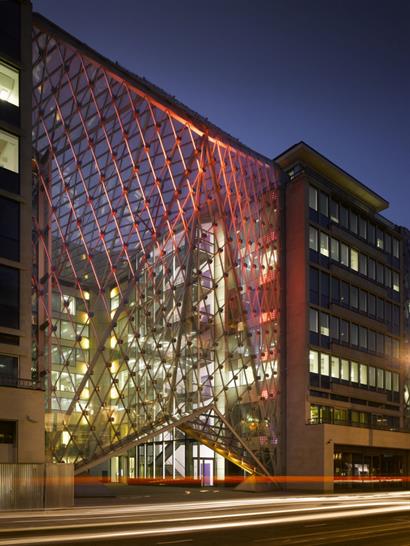 Click image to expand
image by Will Pryce
of
There had been a presumption to demolish the 1950's Marks & Spencer headquarters on Baker Street and replace it with a new office building. London and Regional Properties Ltd and Make challenged this, working together to dramatically reinvent the structure as an efficient, outward looking mixed use development. The brief was to maximise the space and its value and provide the additional advantages of a brand new building and the considerable environmental and social benefits of recycling the structure.
By retaining over 70 per cent of the existing building, demolition and construction times were cut by 18 months, reducing pollution and disruption to the locality, whilst significantly minimising the energy used. The building achieved a BREEAM 'Excellent' rating at the design and procurement stage.
Perceived constraints were turned to advantage, establishing a new, positive identity and strong sense of place, while achieving 30 per cent more commercial space. Two immense steel transfer structures in the reception area have replaced a dozen original columns and the flexible, efficient office spaces have been configured to adapt easily to changing work and use patterns. Floors can be combined, removed, divided or changed to alternative uses without affecting the core or the façade.
Utilising bespoke active chilled beams, a floor to ceiling height of 2.75m was achieved within the 3.20m structural floor height. Locating risers outside the floorplate maximised heights while allowing easy upgrading or even radical changing of systems in the future as technology or occupancy evolves. The transformation is expressed by the three glass 'masks' that span the existing blocks to create a unified dynamic façade. These new spaces deliberately blur the distinction between public and private, containing the building entrances, multi-media art and a setting for restaurants and local events. The enriched mix of uses increases Baker Street's active street frontage by 20 per cent.
The development acts as an exemplar of how existing building stock can be rethought and made relevant.