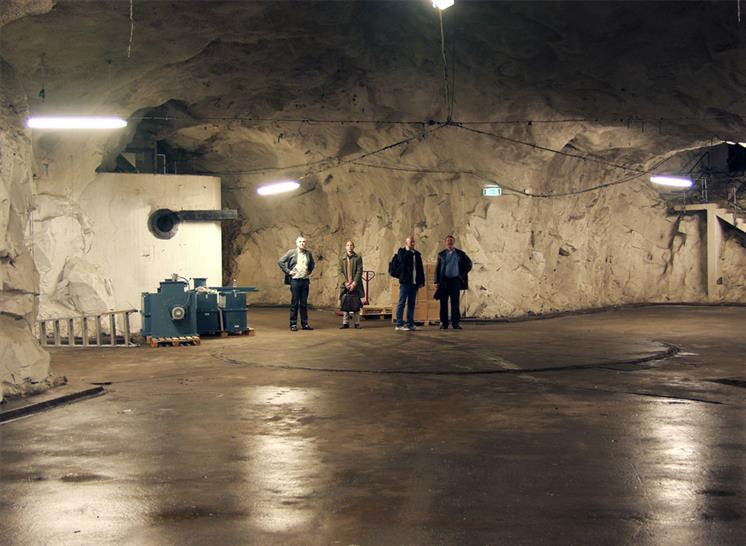 Click image to expand
The bunker before work began
of
Cold War defence facilities do not often cross paths with contemporary architecture but when they do, the result can be quite unforgettable. Take Pionen - White Mountains: originally designed during the afore mentioned Cold War as part of the central defence of Stockholm, the bunker had office space and an operation centre for rescue personnel, beds, kitchens, a communication room, filters for radioactive dust, warehouse for gas-masks, etc. Prime aim of the bunker? To withstand - if not a direct hit by the hydrogen bomb - a close hit.
Years have gone by and now Pionen, still under the original code name, is a state of the art ultra secure hosting centre for co-location plus network operation for Bahnhof, one of Sweden's largest Internet Service Providers.
The vision is a joint venture between Bahnhof's team of techies lead by CEO Jon Karlung and the architect Albert France-Lanord who masterfully interpreted Bahnnof's idea of a high tech space buried in rock inspired by films like Logans Run, Silent Running and the old Star Wars.
The surreal data centre covers a total of 1110 sq m, bang in the middle of central Stockholm, 30 m below ground, cocooned in solid granite.Jon Karlung enlightens WAN: "The reconstruction took place during 2007 and 2008. More than 4000 cubic metres of solid rock where blasted away to make even more space for technical hardware. Not much of the original facility is left - it now looks more like a space ship or James Bond base. All in all 15 senior tech-staff work here. We have simulated daylight, greenhouse, waterfalls, etc. All to simulate something like a space station - in some senses we are sitting in the real 'cyberspace'."
As far as power supplies go, Bahnhof kept to the Cold War theme and installed diesel engines that where originally designed for submarines and, just for fun, also installed the warning system of sound-horns from an original German submarine.
Jon Karlung emphasises that humans are the focus of the project: "Almost all conventional data centres are focused on the technical aspect. Our facility is of course state of the art in those regards but we also wanted to add a human dimension. First of all, people actually work in data centres and if you have an interesting environment you add an extra value."
And extra value here comes in many different shapes: there is a space-design meeting and conference room and a huge fish tank of 2600 litre. Bahnhof conludes: "We where considering Piranha (but were told they are too boring) and octopus (but were told that they might escape the fish tank). Now we have a variety of salt water animals. In the cave outside the actual hosting centre – there is the occasional wildlife like bats and sometimes cave-spiders. We preserve the wildlife as much as we can."
Laura Salmi
Reporter