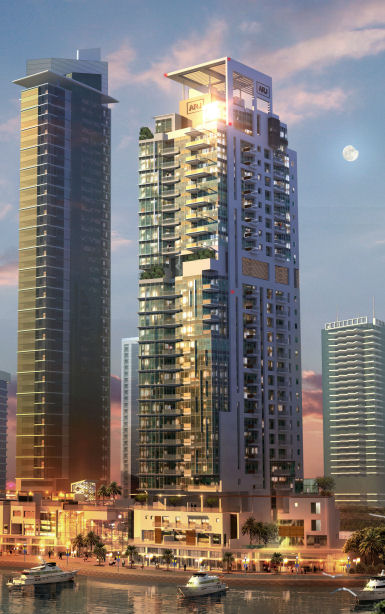 Living by the water's edge
Atkins' 2CDE development in Dubai takes shape.
Work has started on site for the new Atkins-designed residential '2CDE' development. When complete, this will form a prominent landmark at the Dubai Marina, the city's major new cosmopolitan waterfront development.The 27-storey, 116 metre-tall tower involves a mix of one, two and three bedroom serviced apartments, two penthouses and eight duplex townhouses. The 33,642 sq m development, which embraces sustainable principles, also contains a pool deck and health spa.Atkins worked closely with the British University in Dubai (BUiD) to weave sustainability into 2CDE's design. The exterior of the buildings comprises clear glazing, which incorporates electro-coating (or 'e-coating'), and will withstand the thermal impact of high summer temperatures and allow for maximum natural light thereby reducing the requirement for electricity. Shading technology, including a 'sun screen wall', will also counter solar gain while enhancing design aesthetics.Commissioned by Ahmed Ramadhan Juma Establishment, 2CDE is due for completion in early 2008.