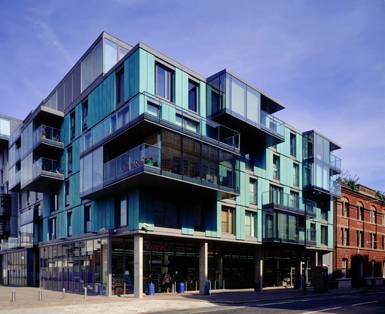 CABE Building for Life Gold Standard winner
It is …"a vibrant and striking urban intervention… a landmark development in the area".
A mixed use development on a key site, the former Allied Brewery, which repairs the tight knit urban fabric', creating a tremendous sense of place, and vibrant public realm with a mixture of uses that compliments the local community. It's engaging and clearly articulated form punctuating St John Street, adding colour, texture and interest to the streetscape, with the richly layered patina of copper, zinc and glass interplaying with light and shadow. The concept mediates with its surroundings, celebrating the industrial heritage of the site, providing a new focus at the heart of a thriving community.