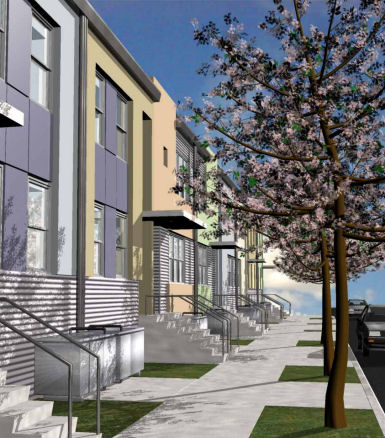 New town for New York.
Alexander Gorlin Architects have been commissioned to transform a 45-acre landfill in into a new 241,000 sq. ft town.
As part of Mayor Bloomberg's Housing Plan to build and preserve 165,000 units of affordable housing over ten years AGA have been commissioned to design a new town compromising 816 housing units in east New York for the Nehemiah Housing Development CorporationThe strategy being explored for this project creates a new kind of 'Nehemiah Home' that responds in a more synthetic way to the problem of large-scale, low-cost housing development. Working with various New York City government agencies, the firm is authoring the development guidelines while producing a Master Plan for the surrounding sites slated for mixed-use and market-rate housing. In keeping with the design principles of developing sustainable and livable communities, the master planning for this site allows for various creative home design solutions within a framework which is sensitive to the overall community needs.