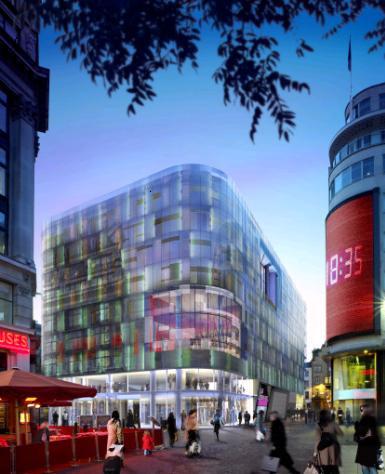 Leicester square plans submitted
Jestico + Whiles submit plans for a new building on London's famous Leicester sq.
The building will include a 4 star hotel, high quality footprint retail, a restaurant, 10 penthouse apartments, and three below ground levels accommodating a casino and restaurants.It will occupy the prominent corner of Leicester Square, one of the most important and busiest squares in London, hosting 50 global film premieres each year.The façade is a frosted, translucent veil. By day, the veil is calm and restrained, however, as dusk falls; a light stains the etched veil. The intensity and colour of the light can be tuned according to the time of night, the season or the special occasion. The bedrooms in the hotel will have tall windows to admit natural daylight and Rooms along the southern elevation enjoy uninterrupted vistas across Leicester Square, and some have views to Piccadilly Circus .