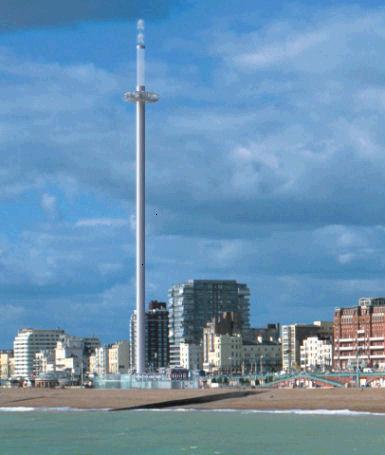 Uplift for Brighton Seafront?
Radical proposal for observation tower to replace West Pier
The award-winning husband and wife architects, David Marks and Julia Barfield, theoriginators and designers of the London Eye, announced their plans to build anobservation mast on the site of the West Pier. 'Brighton i-360' will carry up to 100 visitors at 183 metres above sea level it is will taller than Blackpool Tower, the Spinnaker Tower and the London Eye itself.It is anticipated to have a peak capacity of 4,000 people a day and it should be possible to see 25 miles on a clear dayThe pod is made out of glass and steel and has designed to be low energy use and energy efficient – 20 per cent of the energy required to drive it will come from wind-turbines at its top."In the past it was said that the West Pier allowed people to 'walk on water'. We hope that i360 will allow people to walk on air. David Marks said of the proposal, "This is a rare opportunity to create a landmark in the true sense of the word. We believe it will give people a new experience of Brighton enabling them to see the whole of the City for the first time and be a catalyst for regeneration in the immediate area"