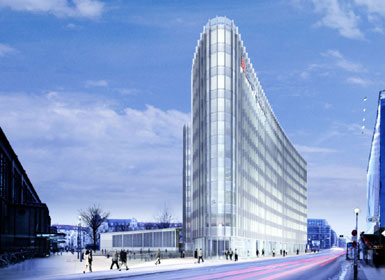 Glass tower for the centre of Berlin
Mark Braun Architekten unveil plans for visionary office building in Berlin.
Mark Braun Architekten have completed a design for a modern and transparent office building at key location Friedrichstrasse in Berlin, eighty-five years after Mies van der Rohe first submitted his spectacular glass tower design for the same site.The building, with its gently curved footprint, will be a landmark project within East Berlin's urban fabric.Hamburg-based developer Harm Müller-Spreer managed to sign up a long term tenancy with Ernst & Young Germany. Construction of the fully glazed and sustainable building will start in autumn 2006, with completion in winter 2008.