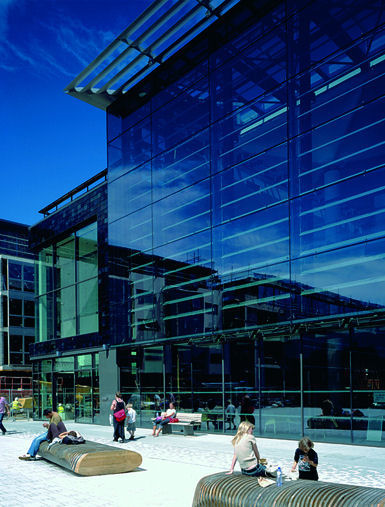 A new Library for Brighton and Hove
Jubilee Library at Brighton is the centrepiece of a masterplan that stitches back together the fragmented streets of the North Laine area of the city.
The library fronts onto a new public square at the centre of the site with shops, cafes, restaurants at street level and residential/office above. The square provides a venue for public art, performance and the Brighton Festival. The library adopts a formal plan with offices, meeting rooms/library resources around the enclosed perimeter with the main reading rooms/reference library on the ground floor and a 'floating' mezzanine level, supported by eight free-standing concrete columns with fan-shaped heads.The scheme by Bennetts Associates, working with Lomax Cassidy & Edwards has been praised as a rare example of high design quality within the Governments Private Finance Initiative (PFI) system and is shortlisted for the 2005 Stirling Prize.